Women are wonderful creatures, they can be so caring and selfless when it comes to who they love; in fact, that's the default of almost all women until they were taught otherwise either by experience or by observation.
When she love you, she can do everything in her ability to make you happy, but you can tell what happens when she stopped loving you or lose interest in you. Here we'll be discussing:
5 signs you're losing her and remedial measures to put in place to get her interested in the relationship again.
When she love you, she can do everything in her ability to make you happy, but you can tell what happens when she loses interest in you
Click To Tweet
She Doesn't Initiate Contact
if at all there's going to be periods of conversation between you both, you're always going to be the first person to call or chat first, she becomes indifferent with the relationship and put in no effort to communicate with you.
There are even sometimes you'll contact her (by call  or text) and get no reply at all or at least, delayed response. when you try to hold a conversation, her replies are cold to the extent that you just have to leave the conversation.
Then it may transcend to the situation where she become unbothered about your dealings with her, Your instinct will hint you that she's already out of the relationship, she's probably on the hunt for an ideal excuse to leave so it will seem as if the break up was your fault.
However, if you don't want to lose her, call her one one one to have a deep conversation with her. One thing about women is; they are quick to open up, she'll most likely tell you what the problem was and then you can resolve the issue from there.
Women are quick to open up, all you need is the right way to furnish your words
Click To Tweet
She Start Ignoring
This is when you begin to notice you're losing track of her whereabout; she no more tell you where she's going or coming from, she take advantage of all possible means to ignore you.
Has it ever happened that you call her the first time and the phone rang and almost immediately you called the second time after she didn't pick the first and the phone was already switched off; Of course, she probably toggled the airplane mode because she just doesn't want to hear from you and if you plan a meeting with her, she'll always have an excuse not to be there.
if she's around you, you'll always notice some kind of passive aggression displayed on her face and also in the tone with which she speaks with you, and that is if speaking is compulsory, else she remains totally  silent.
You should know at this point that you're slowly losing her and if she mean a lot to you, device a strategy to apologize for any wrong done to her and make her understand you've still got her love in your heart no matter what.
it's fully understandable that you're the man and apology might be a bit hard but will you rather allow ego to ruin your relationship? you  can actually apologize and get back on track with her, i'm sure you know deep down if she's worth keeping or not.
Don't Touch Mode
Another surefire way to decode the fact that you're losing her is if she tweak on the "don't touch me mode" she gets angry at your slightest mistake and you lose access to her, if you come close she may shout at you, push you or even walk out on you without a feel of guilt.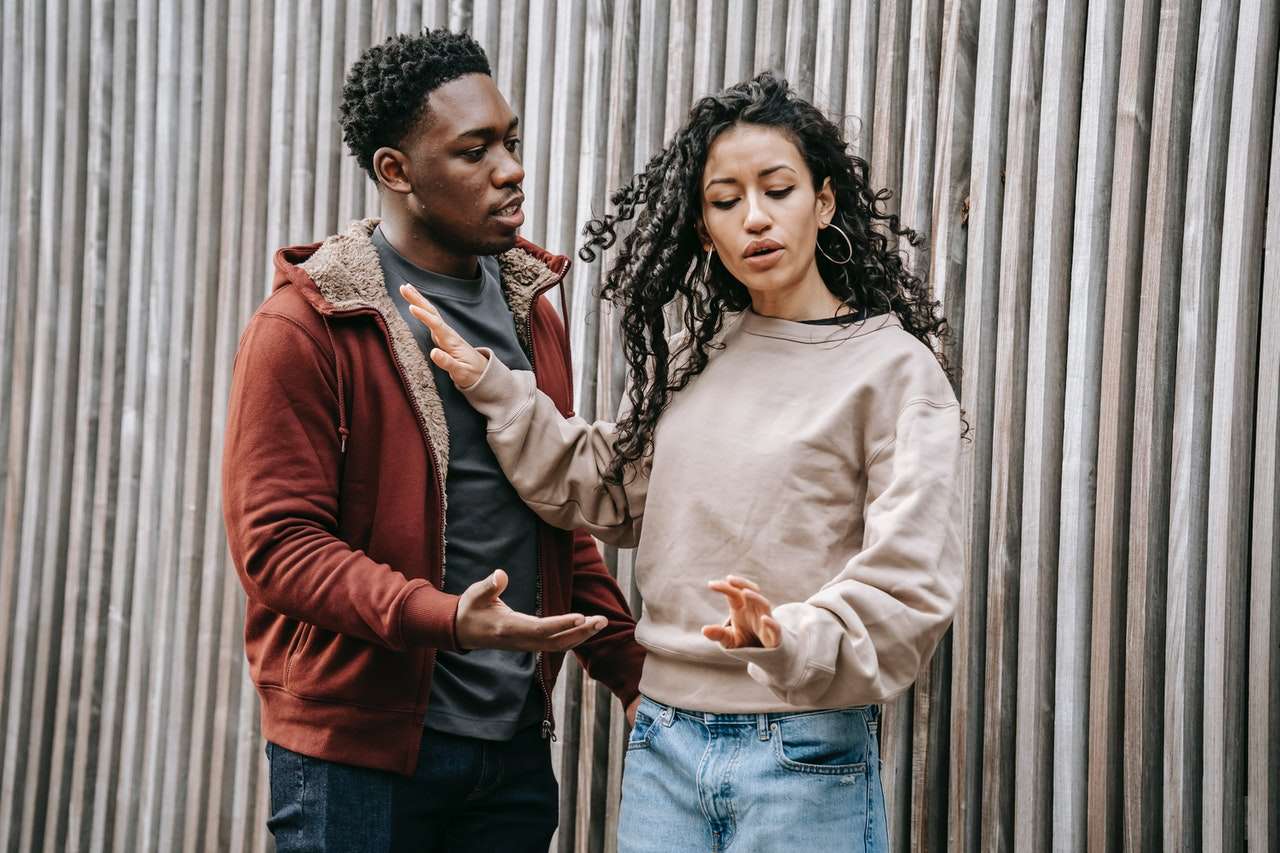 It's very dangerous if things get to this point and she probably only have days to spend with you if you don't try taking quick action, you should be able to figure out the 'quick action' ; most probably apology.
There is no relationship that can't be restored and love is not as muddlesome as people see it to be, The biggest causes for most divorces and heart breaks is  the inability of one or both of the partner to drop their ego and make a simple apology.
She only have days to spend with you if she no longer allow you to touch her.
Click To Tweet
Confrontation and Comparison
Someone who cannot look into your eye without getting shy and giing her angelic smiling is now become a "wrestling opponent" overnight.
She now can look into your eyes and confront you, she can now open up and talk angrily at you, don't be quick to make the same mistake others make by  tagging the way she roared at you  as her "true color" we're all human and if we get pushed to the wall, we might as well react to it.
you knew that was not her natural self and that has never happened and she reacted that way maybe because she felt or she is feeling hurt about something you did and you should be able to understand and correct the issue before you totally lose her.
The unacceptable one is when she started comparing you with other guys who can do more for their partners, if you're experiencing this, you may not want to put much emotional effort in bringing her back because she is already  being pampered or being deceived by someone else you don't know about and she's just on the look out for excuse to leave the relationship.
If she starts comparing you with other guys, put less emotional effort in keeping her, she's for the street!
Click To Tweet
She Becomes Totally Silent
This is general to all women but will be more noticeable if your woman is an introvert, she gives shorter replies to your text and avoid conversation with you at all cost.
You no longer see her status and she is always not in the mood to gist you about how her day went and if you're doing anything wrong, you will never hear her correct you unlike before, anything right; no commendation, no more romantic names, her smile become scarce like bitcoin, closed body language signs.
She just don't want "problem" and she just want her own space, she's fed up and just want to leave but that is not enough for you to give up on her especially of you know she's a 'one in a million"
Total silence is the most dangerous sign you're losing her
Click To Tweet
Women doesn't just grow into this particular behavior of total silence, there is/are somethings you have done to hurt their feelings and they probably don't want to get hurt further, so they decide to stay on their lane; in their own space.
Signs you're losing her conclusion
If any of these attitude is noticeable with your women you don't want to just sit and wait for things to fall into place or just hope she will come back to her old normal self; you actually need to take action to  bring her back to you, it may be that all it takes to get her back to you is to take her to a special place and give some sorts of special apology maybe in form of card or an "I'm sorry" teddy gift.
It's your duty to figure out what might work best to bring her back to you but just be aware that when you do nothing at all, you risk totally losing her.
Please Share